Here we go again!
Below is a live map with the most accurate aurora borealis forecast for Oregon tonight, including Portland, Bend, and the rest of the state. This map is also valid for Washington. Showing you where and how you can view the Northern Lights here in the Pacific Northwest tonight based on the current live KP-Index of the solar storm approaching earth.
Northern Lights Local Visibility Quick Facts
If you do not want to read, learn, understand how to tell if the northern lights will be visible tonight, then here is some quick simple information for you.
The truth is you will not see the Northern Lights in Oregon tonight. Local news affiliates and clickbait sites mislead viewers for shares.
Verify Tonight's Northern Lights forecast
Do not fall for local media clickbait headlines. This article will tell you if you can see the Northern Lights tonight in the Pacific North West or not. The sad truth is that they lie for clicks and shares so you will likely not see them tonight or ever in your life where you live. But the true answer can be found here with the explanation and very interesting live aurora activity links straight from NOAA.gov. NOAA is the abbreviation for the National Oceanic and Atmospheric Administration. You can be assured this is accurate and trustworthy information from a government organization.
You'll see from the map below(provided by NOAA), we need a KP-Index of at least 7 here in Portland to even begin to get a chance to see the Aurora Borealis.
That is a geomagnetic storm of G3 or G4.
However, it is more likely that we would need a Kp Index 9(the red line).
Needed KP-Index Chart
Yellow Line = KP-Index 7
Red Line = KP-Index 9
See actual current KP-Index in next section of the article.
KP-Index Required to See Northern Lights Map.
Courtesy of NOAA(National Oceanic and Atmospheric Administration)

Actual Current Live KP-Index from NOAA.gov
NOAA KP-Index
This is a live Planetary K Index chart straight from NOAA.gov. So if this is in the red and we're at a high of 7+, we may get to see the Northern Lights here in Oregon or Washington state. Only if it is night time here in the Pacific North West. A KP of 9 during the day is not going to be of any good to this side of the planet.
This next chart is an offcial KP-Index chart from German Research Centre for Geosciences which is essentially the same information in a different layout.

But as mentioned, we would probably need a 9 to see it with our naked eyes. This is so extremely rare. The media may have told you today, that you can see the northern lights tonight, but they only did so in hopes of article shares for advertising revenue. By now you should know that you can't trust them. You are not in their best interest and for them, telling you a lie to earn revenue is the standard.
I've personally gone out on a Kp 8 twice and not seen the lights. I went far away from the city lights of Portland into the state of Washington past Vancouver into the wilderness and saw nothing but stars. Lots of stars, and even the Milky Way Galaxy. A Kp index of 8 is not even a guarantee and it only means we have a small chance. I think it would take a Kp 9 or higher to really see them, but we'll find out soon enough. If you've seen them here in our state, please comment with your experiences below!
Yes, I am aware that if a photographer goes out with an expensive camera set up and does a 30-minute exposure photo, it will show faint what appears to be northern lights. But that does not equate to you being able to see them as all the local clickbait headlines read.
True United States Aurora Borealis Forecast
And of course, there is always the aurora forecast straight from NOAA. They can help you figure it out.
NOAA Forecast – Slow loading animation but the best forecast option.
Alaska.edu Forecast – You may need to hit next a few days for a full forecast.
The following image is the "latest" capture of the current aurora from NOAA. For the full animation click the forecast.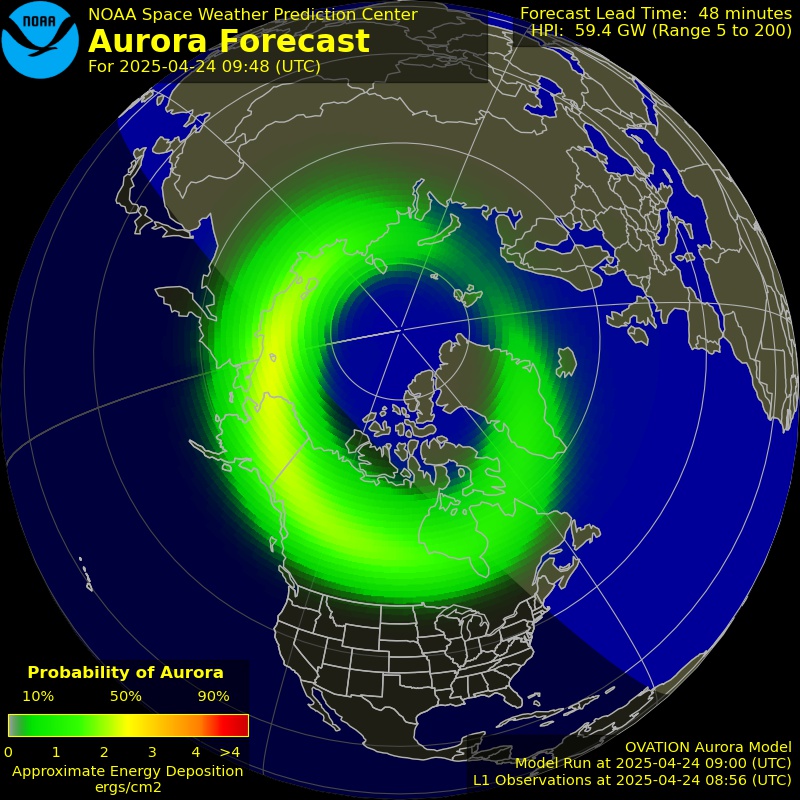 Best conditions for seeing the Northern Lights in Oregon or Washington
Well, as you now know, we have to have a KP-Index of at least 7, preferably up to 9.
But even then you need to hope for perfect moon conditions(current moon phase) and you must get away from city lights.
This map shows you all the light pollution across the world. It's immaculate. But with this map, you can seek out places here in our state to view the Northern Lights. We're lucky here in Oregon because you don't have to drive far in any direction to get optimal viewing conditions.

What causes the Aurora Borealis?
The sun does with its beautiful Solar Flares and Coronal Mass Ejections.
Here's a video explanation from NASA.

Conclusion:
This article exists to teach you how to check if there will be Northern Lights tonight for yourself. I got tired of seeing local media affiliates spin false articles every time there is a minor solar flare. They only do it because they know uneducated, uninformed people will quickly share links without doing any research on their own. All anyone ever does is read the headline and reposts without understanding the science behind the Northern Lights and required solar weather. You are now prepared and know how to check this on your own(you could just come back here). No more false alarms!
If you're into this kind of stuff, you may love my Best Oregon Weather Sources article.
Please share this article and inform others.

Photo by Gary Randall Photographic Art
A few Bonus Solar Weather Maps
Plasma Density
In this image, Earth is the green dot and the sun is in the middle as the yellow dot. You can see any solar plasma ejections and their path and velocity. It takes a pretty rough hit from the sun for us to get the Northern Lights at lower longitudes.
Current Sun Solar Flares
Lasco C3 | Animated | Lasco C2 | SOHO SDO
Two very cool satellites observing the sun's current conditions. The disc in the middle is because they can not stare directly at the sun due to overexposure.