Silverton Christmas Market: 2023 Dates & Info
Formerly known as Christmas in the Garden.
Oregon's largest Christmas light display in the state.
And possibly for several states around.
Christmas Market Quick Facts
Dates: Nov. 17th, 2023 – Dec. 1st, 2023
Hours of Operation: 5:00pm-9:00pm
Location: Silverton Oregon
Bring Cash? NO! No one, not even food, drink, and vendors accept cash
Event Tickets: Buy Online
Tickets must be bought online, none on site
All tickets have an extra $1.20 service fee, each
Locals Get a whole $2 off
Children 5 and under are free.
Tubing is not included and will cost you more
There is no longer any ice skating
Family of 4 with parking and 2 tube rides each runs $101
Add $309 if you want to stay at the Resort on a weekend
Dogs are allowed on a leash so be prepared to be around peoples stinky dogs
Beer Garden sponsored by Bud Light
With the claim of over one million lights along with tons more fun and various activities for both children and adults alike, this could be the one don't miss holiday event for you.
But the truth is, it is just an overpriced market. If you have kids, take them here. If not, you may find better things to do with your time.
Silverton Market, formerly Christmas in the Garden, is hosted at the Oregon Garden Resort in Silverton, Oregon. It is no longer hosted inside the Oregon Garden but instead hosted on the grounds of the Oregon Garden Resort. This is due to management changes on the property.
However, they claim this allows for more space, more lights, and more fun.
Below is a map of the path.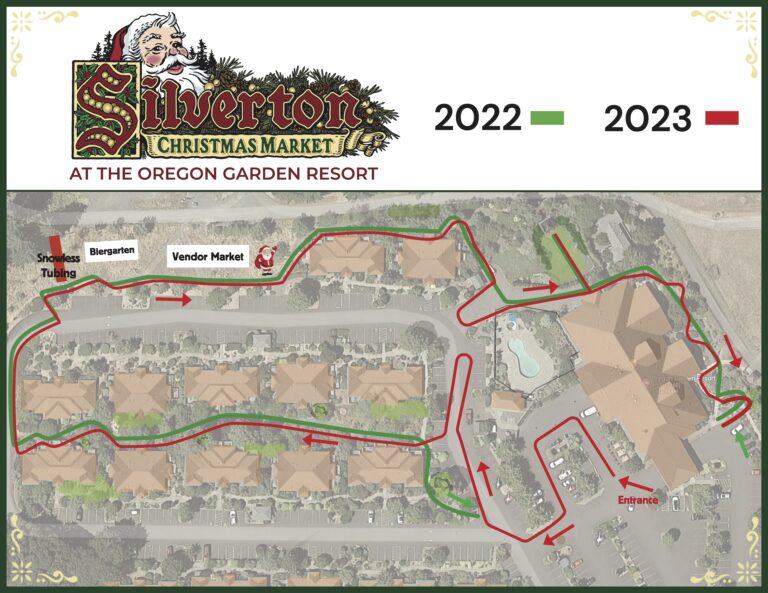 And a very confusing "map" of the event. Good luck trying to gather any info from this Where's Waldo cluster mess.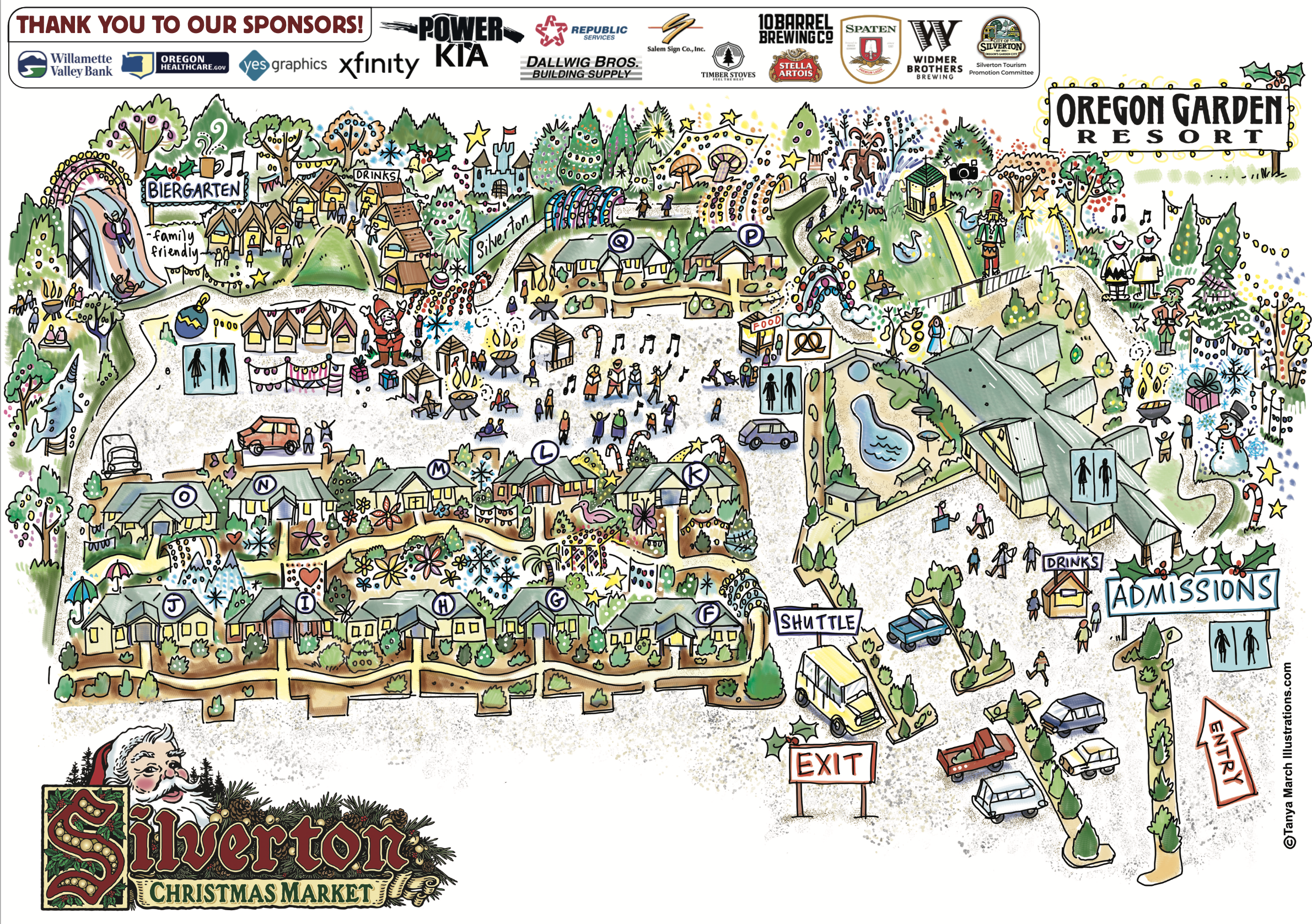 Silverton Christmas Market 2023 Dates & Information
Dates: November 17th, 2023 – December 31st, 2023
Closed: for Thanksgiving and Christmas. Nov. 22nd & 23rd and Dec. 24th & 25th
Hours of Operation: 5:00pm-9:00pm
Silverton Market Location
Main Address:
Oregon Garden Resort
895 W. Main St.
Silverton, OR 97381
(map)
Phone: 503-874-2539
2023 Ticket Prices
Yes, prices have gone up, even for local residents.
And you must pay "service fees" on top of ticket prices.
No tickets will be available on site.
Service fees, aka hidden price increases on top of already increased prices, are a must.
However, magically you can buy extra tube rides on site because they know they would be losing money if you could not buy those on a whim. Convenience for them, not you.
Adults:
Monday-Thursday: $15
Friday-Saturday: $20
Sunday: $18
Service Fees: All tickets will have an additional $1.20 "service fee" added.
Local Silverton Residents:
Take a whopping $2 off any ticket price if you are a local.
Local residents must have "proof of residence" to save that whole $2.
Extra $1.20 per ticket service fee still applies.
Children Age 6-12:
Monday-Thursday: $5
Friday-Sunday: $8
Don't forget the $1.20 per ticket "service fee".
Children age 5 and under:
Free every day of the week.
Wait what?
Didn't it used to be children under 10 are free?
Parking Tickets:
Parking at Resort: $20
General Parking: $10
You're not out of "service fee" territory here, add $1.20 to that parking ticket.
Snowless Tubing Tickets:
2 rides: $5
4 rides: $9
Plus an extra .50 cent service fee. Well look at that, it is suddenly cheaper. Even though these are more than the children's tickets, the service fee is somehow 58% less.
How Expensive Is it?
So for a weekend trip with 2 adults, 2 kids, parking on site and 8 tube rides(2 each), you are paying $101 with the added $7.00 in "service fees".
Is this going to be worth $100 to you?

That's just to get in. Food and everything else inside will cost you an arm and a leg. And no one accepts cash so who knows what kind of added card fees will occur once you're trapped inside.
Santa's Schedule:
5pm-8:30pm every day November 26th through December 23rd
Biergarten aka Beer Garden:
This will be the place for you adults to hang out but it's not going to be a top-notch stop. Food wise you can basically expect snacks. Mac & cheese, hot dogs, pretzels, and sausages. Yes really, that's it.
Again, not much but at least you can catch and expensive buzz to feel like it was worth it. They will still have some classic traditions like Gluhwein, hot chocolate, hot apple cider, and more.
Something to keep in mind though, last year it was sponsored by Anheuser-Busch, aka Bud Light who you are probably already not drinking so do not be fooled by their other brands and obvious style of promotion. Who are they catering to with these beers?
So if you know any better, sneak in a nice mixed drink in a normal looking soda bottle or a flask but don't buy a Anheuser-Busch beer masquerading as a micro IPA.
Entertainment wise, they will cycle the same few unknown groups throughout the month.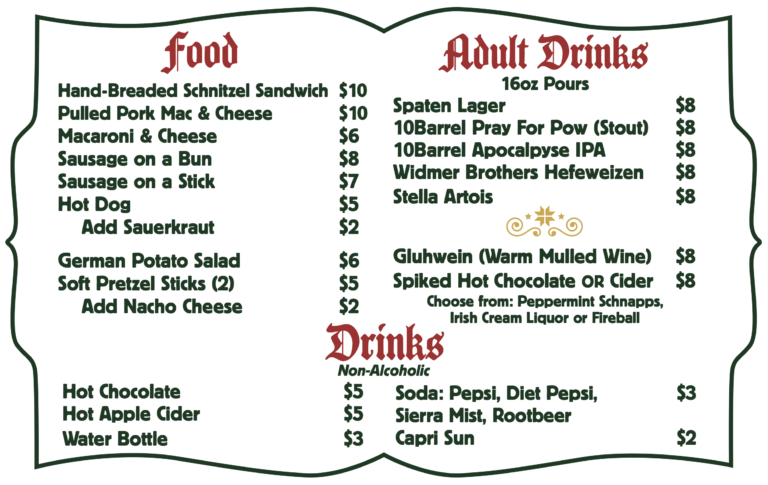 Concerts:
As of 2023 they have no bands listed.
What does General Admission Include?
Your tickets include access to the Garden of lights with over one million Christmas lights, colorful displays, a vendor market with lots of goodies to buy, a Biergarten for the adults, a Kiddie Corral for the little ones and much more.
Ice Skating Information
There is no longer any ice skating at all.
Vendor Market and Shopping On-site:
The 2023 vendor market will have a rotating assortment of local vendors. It is your typical Oregon hippie market. Handmade beard oils, candles, "crafts", and things. I'm sure you can find some gifts for friends here if you lower your standards and try hard enough.
Nearby Lodging:
Of course, you may stay at the Oregon Garden Resort and they have packages starting at just $279 a night for a family of 4. They do charge full price extra for kids over age 6. But you may also stay at various locations around town to save some money.
Here are a few local Inns and even an RV Park for those of you traveling via motor home.
Silverton Inn & Suites
The McClaine House
Water Street Inn Silverton
Edward Adams House Bed and Breakfast
Silver Spur RV Park
Conclusion, Would I go?
No, absolutely not. But that is because I don't have kids and would not pay to go see Christmas lights.
If you have kids that are easily entertained(as most are), then this will be a nice thing for them. You just have to power through it, for the kids sake.
Would it be good for a date? It could be. It depends on the person you're bringing. You really have to feel that out before hand and think if lights and a few beers will get you where you want to be or if going to a local dive bar is a better idea(it is).
But folks, if you're in Silverton Oregon, be sure to check out Silverfalls State Park. It has 10 waterfalls and it is much more magical than a few million Christmas lights.