Silverton Christmas Market: 2022 Dates & Info
Formerly known as Christmas in the Garden.
Oregon's largest Christmas light display in the state.
And possibly for several states around.
With the claim of over one million lights along with tons more fun and various activities for both children and adults alike, this could be the one don't miss holiday event for you.
But the truth is, it is just an overpriced market. If you have kids, take them here. If not, you may find better things to do with your time.
Silverton Market, formerly Christmas in the Garden, is hosted at the Oregon Garden Resort in Silverton, Oregon. It is no longer hosted inside the Oregon Garden but instead hosted on the grounds of the Oregon Garden Resort. This is due to management changes on the property.
However, they claim this allows for more space, more lights, and more fun.
Below is a map of the path.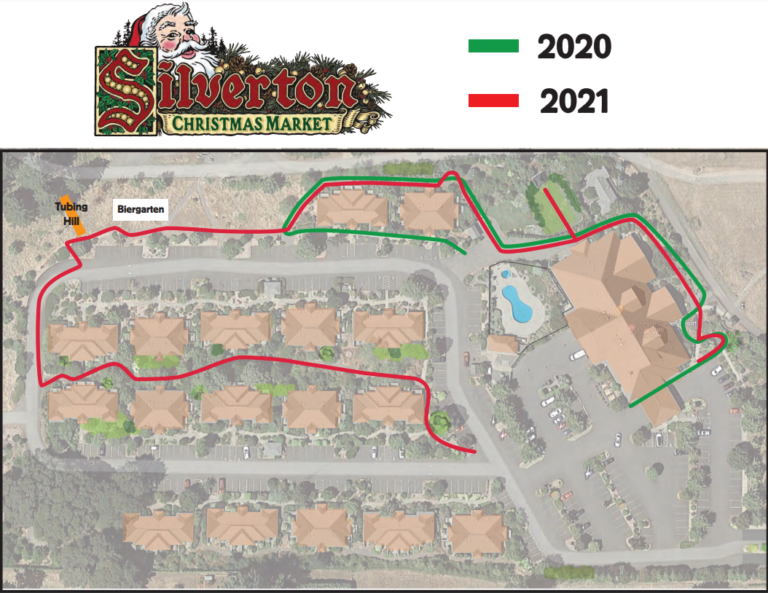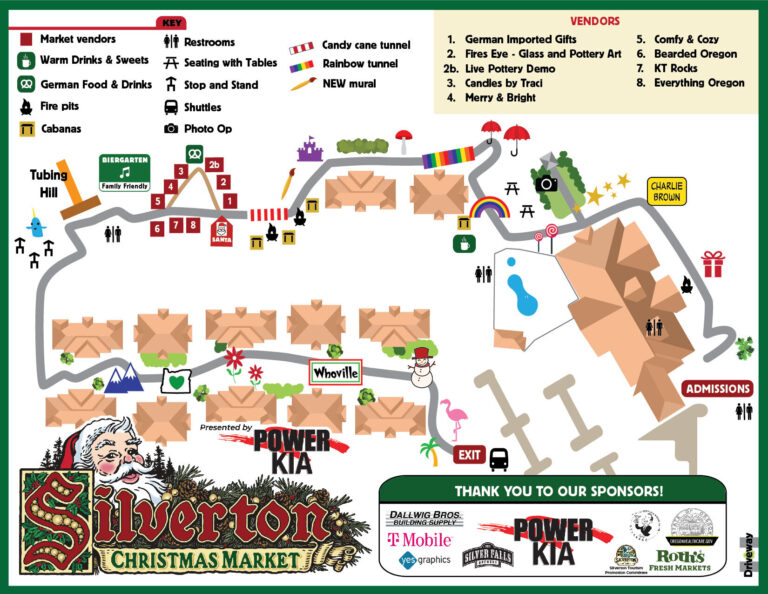 Silverton Christmas Market 2022 Dates & Information
Dates: November 25th, 2022 – Jan 1st, 2023
Hours of Operation: 5:00pm-9:00pm
Silverton Market Location
Main Address:
Oregon Garden Resort
895 W. Main St.
Silverton, OR 97381
(map)
Phone: 503-874-2539
Ticket Prices
This is 2021 prices but 2022 will be released soon.
Adults:
Monday-Wednesday = $15 (Residents $12)
Thursday-Sunday = $18 (Residents $15)
Residents must have "proof of residence" for discounted locals pricing.
Children Age 6-12:
$5 every day of the week.
Children age 5 and under:
Free every day of the week
Parking Fees:
$10 Near Resort Entrance
$15 at resort
Snowless Tubing Cost:
1x $3 or 3x $8
Quick Facts:
Dates: November 25th, 2022 – Jan 1st, 2023
Hours of Operation: 5:00pm-9:00pm
Location: Silverton Oregon
Event Tickets: Buy Online
Santa's Schedule:
5pm-8:45pm every day November 26th through December 23rd
Biergarten aka Beer Garden:
This will be the place for you adults to hang out but it's not going to be a top-notch stop. Food wise you can basically expect snacks. Pizza, hot dogs, nachos, pretzels, and sausages.
Beer wise, they don't seem to have a sponsor currently but in the past it is hosted by Stella Artois. They will still have some classic traditions like Gluhwein, hot chocolate, hot apple cider, and more. Entertainment wise, they will cycle the same few unknown groups throughout the month.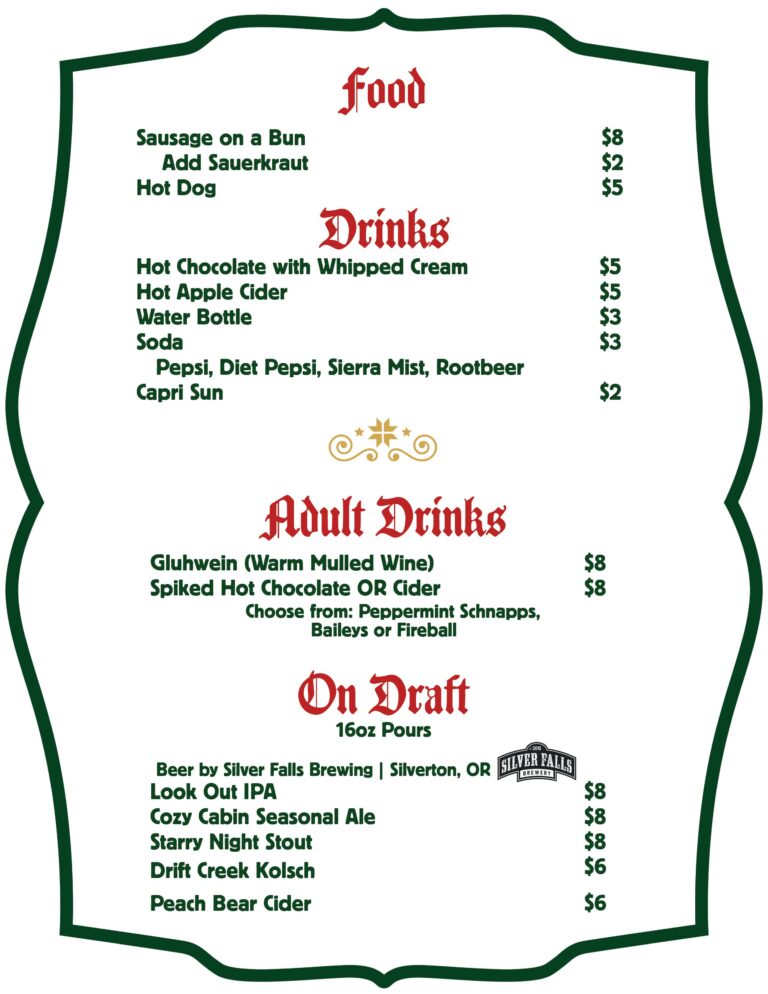 Concerts:
As of 2022 they have a few bands listed.
What does General Admission Include?
Your tickets include access to the Garden of lights with over one million Christmas lights, colorful displays, a vendor market with lots of goodies to buy, a Biergarten for the adults, a Kiddie Corral for the little ones and much more.
Quick Facts:
Children 10 and under are free.
Locals Get discounts
Tubing is not included and will cost you more.
There is no longer any ice skating.
Due to Covid there is NO CASH accepted on site.
Unfortunately, "well behaved" pets on leashes are allowed.
Ice Skating Information
As mentioned, ice skating is not included and will cost you quite a bunch more. You can also obtain a season pass for ice skating to save some money.
The skating rink is covered and heated.
Vendor Market and Shopping On-site:
The 2021 vendor market will have a rotating assortment of local vendors. It is your typical Oregon hippie market. Handmade beard oils, candles, "crafts", and things. I'm sure you can find some gifts for friends here if you try hard enough.
Nearby Lodging:
Of course, you may stay at the Oregon Garden Resort and they have packages starting at just $149. But you may also stay at various locations around town to save some money.
Here are a few local Inns and even an RV Park for those of you traveling via motor home.
Covid Restrictions:
The State of Oregon requires masks in all indoor public spaces. The actual Christmas Light Path is outdoors and provides plenty of open space for social distancing.
Silverton Inn & Suites
The McClaine House
Water Street Inn Silverton
Edward Adams House Bed and Breakfast
Silver Spur RV Park
But folks, when you're in Silverton Oregon, be sure to check out Silverfalls State Park. It has 10 waterfalls and it is much more magical than a few million Christmas lights.